Tag Archives:
Arturo Vidal
Barcelona is still one of La Liga's strong teams, but this does not mean that Spain is depending on the players from the Nou Camp.
---
It is true that times have changed when Spain won the 2010 World Cup, there were 7 Barcelona players on the list and 6 starting players in the final. In February 2013, Barcelona set a record with nine players on the list of friendly matches between Spain and Uruguay.
However, up to 2 matches against Norway and Sweden, La Roja has only 1 Barcelona player. It was Sergio Busquets, the midfielder would probably bid farewell to both the team and Barcelona.
In fact, today, the first team of Barcelona is no longer many mature players from La Masia oven. Exactly, in the starting line-up of the Nou Camp team, only 4 players are eligible to wear Spain, Busquets, Jordi Alba, Sergi Roberto and Gerard Pique.
Of these, Alba is 30 years old and has just returned from an injury. Sergi Roberto was originally a midfielder but was played as a right-back and did not have an official position in either Barcelona or the team. And Pique ended his international career after the 2018 World Cup in Russia.
With Busquets, the opportunity for this midfielder will be less when Barcelona are having Arthur, Arturo Vidal and Frenkie de Jong in the middle of the pitch. And at 31, he will have to accept that he is no longer the number one choice.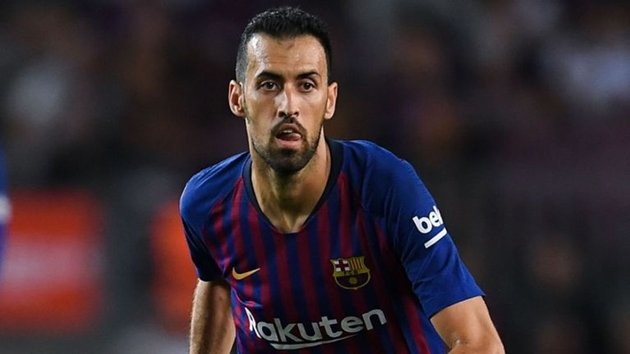 It is unbelievable that even a large rival of Barcelona like Real Madrid is also facing changes when Los Blancos has only two players, Sergio Ramos and Dan Carvajal in the team. This fact has opened up huge opportunities for other teams, in which Villarreal contributed 4 players.
Whether a Spain built not based on Barcelona, ​​Real Madrid will succeed at EURO 2020, they are still waiting for the ticket of Group F after a 1-1 draw in Norway recently. Of course, La Roja will have tickets tonight if they don't lose in Sweden or if Romania fail against Norway at the same time.
It seems that the real battle of Group F is only behind, with Sweden in 2nd place, 1 point ahead of Romania and 4 points against Norway. Romania and Sweden will meet in Bucharest on November 15, and both still have to play against Spain.